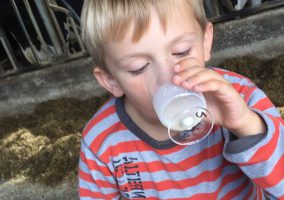 Receiving school classes on our farm is not only fun but also important for us. We give farm education to primary school classes. Together with the children we are going to see where our food comes from, what a typical day for a farmer looks like, but… there is also plenty of time to cuddle our calves!
For farming education classes we work with the following organization:
Zuivelonline: Through this project we receive grade 7 & 8. At these classes the focus is on the origin of our food. We take a guided tour and we are going to taste whether there is a difference between whole milk and reduced-fat milk.