Guided tour of a dairy farm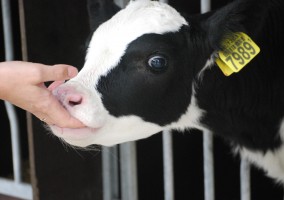 On our dairy farm we milk 100 dairy cows with two automatic milking systems. An automatic milking system is a robot that automatically milks the cows with little to no intervention of the farmer. First the robot automatically cleans the nipples and attaches the milking cups to the udder. As we use an automatic milking system, the milking goes on 24 hours per day. We are very pleased with this modern way of milking and would love to show you why during a guided tour of our farm. Of course the tour will not be restricted to the automatic milking system but will also cover the young calves and the rest of the farm!
Total price for groups up to 20 people: 150 euro incl. VAT
The guided tours will last approximately 1.5 hour and can be booked as a morning or afternoon program. This package can be upgraded with tea, coffee and a small treat.